If you hate Cherie Gil for throwing wine at Sharon Cuneta's face in Bituing Walang Ningning, or for torturing Vilma Santos by tying her down on a chair in Ekstra, your heart will break with this woman in Sonata.
Puzzled together with a conscious effort to put meaning in the tiniest details of vivid images, stirring music, and even the shortest glances between actors, Sonata establishes a connection with the audience by artistically framing every part of Bacolod, tugging heartstrings that seem like have long been forgotten.
Having a story which centers about life's biggest contrasts, the film speaks of its own language delicately. First few moments into the film might not be everyone's cup of tea as it tries to slowly establish beauty through sensory experience but we discover toward the end that everything in the movie has a reason. As per Anton Chekhov, all guns shown to the audience are a promise and for Sonata's case — all of it were fired beautifully.
We see Jonjon (Chino Jalandoni), an Ilonggo speaking boy from Manila who refuses to speak Tagalog, happily exploring his new home in broad daylight. Then we see a gloomy Regina (Cherie Gil) inside her room, a former opera diva who lost her voice and career, trying to connect with her lover whose words only speak of goodbye whenever they meet.
As the story progresses, we notice that there is light and darkness, fame and obscurity, abundance and scarcity. But above all, Sonata makes you feel that where there is love, there is also sadness.
"Listen to me Don Giovani, when you lose, play again."
"I'll remember that as long as you'll remember it, too."
The film familiarizes you with its promise of appreciation in the simplest of things –blue sky filled with cotton clouds, frogs hopping in the pond, flowers in full bloom, the golden color of sunset radiating in the sugarcane fields, the sound of crickets, a starry night sky, the silence. The film will let you see and feel happiness and right spot on, it will also steal it away from you.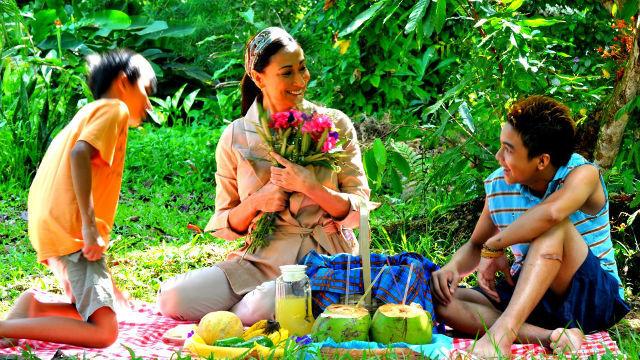 Pinkerton, take care of butterfly, okay?
Also beautifully weaved in the story is how each character's name briefly foreshadows the ending. Everything's meant to be a plan of some big operatic scene.
Cherie Gil is at her best playing the undeniably present and at the same time absent, operatic singer Regina Cardena. She is a tower, both triumphant and scary in her scenes. She is strong and yet she's also vulnerable. Nothing and nobody owns her and despite her lost voice, it's the one thing that truly defines her. First time actor Chino Jalandoni (Jonjon/Don Giovanni) still seems raw but his sympathy and charm will win you over. Chart Motus (Cora, Jonjon's mother) delivers a half-baked acting, at times convincing and sometimes not. Joshua Pineda (Ping/Pinkerton) displays brotherly affection convincingly that the scene involving him in the end made me cry.
Overall, Sonata is a film that makes you wish it ended the other way but admittedly, there could be no more better way of defining the whole act than its original ending.
Rating: 10/10
Watch the trailer HERE.